Nature-based Fridays is a weekly blog series featuring nature-based leadership practices that you can take home and try out over the weekend. It's an easy way for you to experience what nature-based leadership development is all about from the comfort of your own neighborhood!
Would you like to broaden your horizons in only fifteen minutes this weekend? Would you like to use this practice at your workplace next week? This week's nature-based Friday activity is one of our most popular practices with clients because many people report an immediate increase in their professional energy levels and creativity. Read on!
It's a Wide, Wide World: Expanding Your Visual Field
Your Goal
To counteract the exhaustion one gets from intensive focus on singular tasks by increasing your peripheral vision and visual engagement with the world.
The Timing
A total of fifteen minutes. Try the practice described in the video below for a minimum of five minutes. Then, try it two additional times using different views. You'll develop a broader perspective and increased energy each time you try it!
The Practice In Action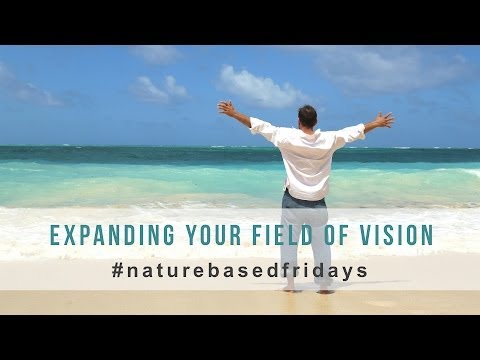 JOIN
THE MOVEMENT
Get FREE leadership insights & tips delivered to your inbox
Connecting Nature and Leadership
Your visual field is the extent of the world seen at any given moment. It stands to reason then that the broader your visual field is, the more you are able to take in, and eventually the smarter you'll get. Here's a simple equation:
Broader field of vision = Greater opportunity to learn and grow
"Wide Wide World" is a popular practice we use because it quickly makes a difference in two important aspects of your life that cut across personal and professional lines:
– your focus and energy, and
– your creativity.
Here's why. Humans are born with two types of attention: voluntary and involuntary. Voluntary attention is what we use every day at work. It is what we do when we are working on specific tasks and problem-solving. Voluntary attention has been shown to use a vast amount of energy and focus. The challenge for us as modern humans is to take frequent breaks from our use of voluntary attention each day. When you're concentrating at work, it's difficult to take breaks, and before you know it, it's quitting time! That's where involuntary attention comes in.
Involuntary attention is best described as effortless engagement with the world. And, it is best experienced in the natural world. It's what happens when you don't have a set agenda or task and can take in the environment around you. It's hopefully what you just experienced in the Wide Wide World activity by expanding your visual field. This practice restores your energy and focus because it is your most natural form of attention. It's how the early humans used to spot predators or hunt for food. In other words, even in our increasingly urban world, we are hard-wired to use involuntary attention. If you'd like to learn more about this, check out attention restoration theory.
That's not all! Your creativity also takes a quantum leap forward as you expand your visual field through wide focus in nature. A recent study shows that creativity and problem-solving increases by a full 50% after time in nature and away from technology. And, who can argue with that?
So, what are you waiting for? The professional, as well as personal benefits, for you and the people you work with are obvious – increased creativity, more energy and improved problem-solving. Make "Wide, Wide World" a part of your regular leadership toolkit, and experience the strategic leadership benefits for yourself!
Tell Us About It
Please reach out if you have any questions about this practice. We'd love to hear your discoveries using the comment box below. Enjoy, and see you out there!





Image Source [Flickr User] John Kwon